A Warmer, Friendlier Alternative to Christmas
A long time ago when I was a lot younger I used to feel sorry for people in the southern hemisphere who never saw snow, much less a white Christmas. I thought to myself, "how could they possibly get into the holiday spirit when it was still warm enough to wear shorts and t-shirts?" I truly felt bad for them not knowing what a "true" Christmas is in a climate where it was warm all year round.
Later in life when I got tired of warming up the car every morning, cleaning frost, ice and snow off of it only to drive in more snow I found myself longing to live in a warmer tropical climate. I often find myself constantly cold, way late into even past winter and into Spring. It was not always that way, but it is now. Unless it's just harmless just flurries which lightly dust the landscape, I hate snow. I hate the cold, but I love the warm balmy weather. All winter I long for the days when I can sit outside and enjoy a frosty tropical drink. I'd rather be sweating than shivering.
One year I went to Brazil in early December for vacation in my off season from work. Suddenly I realized that palm trees decorated with colorful lights was such a nice change of pace. So peaceful, so much nicer than freezing my tail off in a crowded New York City setting just to catch a glimpse of a Christmas tree.
It was then I realized something. People in warmer climates, whether it be Florida, the Caribbean Islands, Mexico or South America did not need to escape to a fantasy of winter for a few days with visions of snowmen, reindeers, Santa and the north pole. They were already in paradise, no need for escapism, they were where we wish we could escape to in colder winter climates. They could enjoy the holiday festivities with food, family, friends, gifts, and no worries about traveling in the cold or snow to get there. A tropical lifestyle is a relaxed way of life.
When I cannot get away to my favorite tropical isle or warmer region, I want to escape into a world of Polynesian and Exotica music, and tiki themed cocktails. I want to block out the world, pour a strong cocktail and just listen to music which you don't often hear on any top 40 radio station. To escape I love to listen to the The Cocktail Nation, Java's Bachelor Pad, and Exotic Tiki Island. This is music I can really appreciate this time of year because like an iceberg, there are so many songs about Christmas that we know by heart at the top of every playlist, but at the bottom there is the other 90% of music which is a real treasure that only the vintage music aficionados know where do dig up and how to deliver. Sure, the classics are fine but its as if the same 20 songs are played on a continuous loop in every strip mall. Why don't they ever play Hawaiian Santa by the Surfers, Jungle Bells by the Blue Hawaiians, or my personal favorite, Here comes Santa in A Red Canoe by Johnny Kamano. These are really great, fun songs to listen to, and I am willing to bet no one has ever heard them, no matter how big of a fan of Christmas music they are.
For me, I especially love the ones about the tropical settings, fun, festivities, no ice or snow needed there, unless it is in your cocktail. It is kind of like watching the ball drop in Time's Square on New Year's Eve. It's great to have experienced this back in the 1990s before it was more like lockdown in a prison, but today its far better to be sipping a cocktail in your living room with a roaring fire while laughing at those freezing their tails off who don't even have access to a public rest room. I much rather be watching from afar, preferably on an island with a cocktail in hand.
Speaking of cocktails, while writing this, I was watching BBC World News this evening and learned that 88% of Americans already feel stressed out and we have not even finished the first week of December. About a third argue about where they are going eat, and nearly a quarter of them argue about gifts, and how much they are going to spend. While the latter figures are not surprising, the nearly 90% of people who are stressed out about a holiday is supposed to be filled with visions of snowy nights by a warm fire with family and hot cocoa.
Forget the hot chocolate by the fire. I much prefer to chill with a cocktail by the sea in warmer weather. Is there a way to have both? Of course. But it takes a specific type of gin. The only kind I know that can accomplish this is St. George Terroir from California. What makes this unique is its infusion of botanical herbs like balsam fir. That refreshing pine taste is subtle but really gives you that hint of a Christmas tree in your tropical cocktail.
As our Polynesian friends say, Mele Kalikimaka & Happy New Year!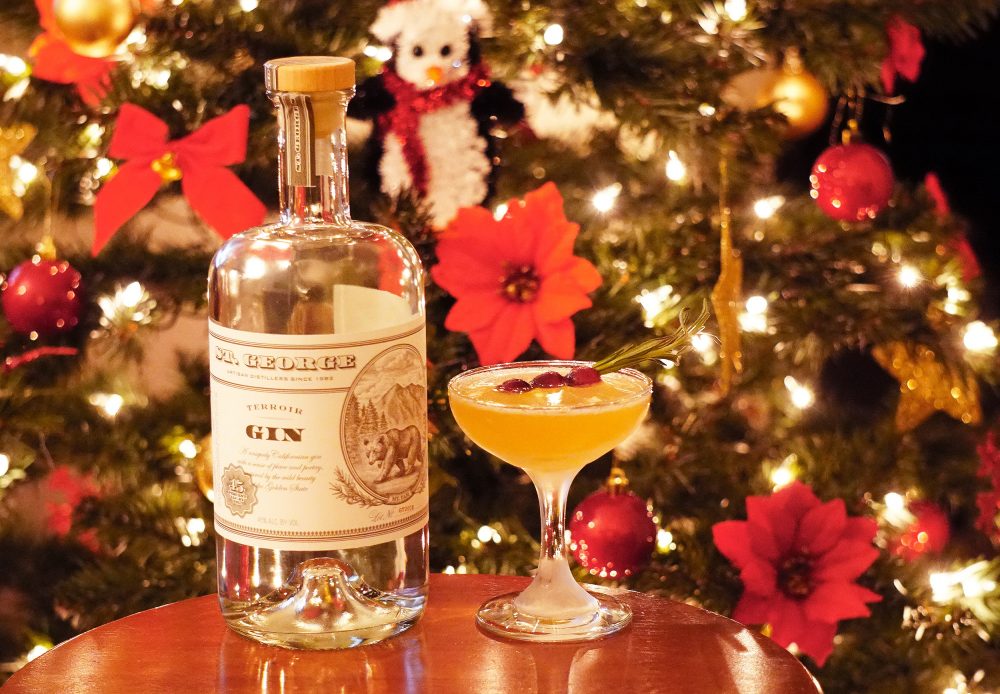 Christmas Island Martini
2 Ounces (60ml) St. George Terroir Gin
.75 Ounce (20ml) Fresh Lime Juice
.5 Ounce (15ml) St. Germain Elderflower Liqueur
.5 Ounce (15ml) Grade A (Amber) Maple Syrup (for a twist, you can substitute with cinnamon syrup noted below)
.5 Ounce (15ml) Orange Curacao or Dry Curacao
3 Drops Orange Bitters (Bittercube, Gaz Regans are good, but avoid Angostura for this one)
Shake with plenty of ice, double strain into a chilled coupe or martini glass, garnish with floating rosemary sprig and/or floating fresh cranberries
Should you feel the need for something stronger and more traditional, this is a great twist on the Old Fashioned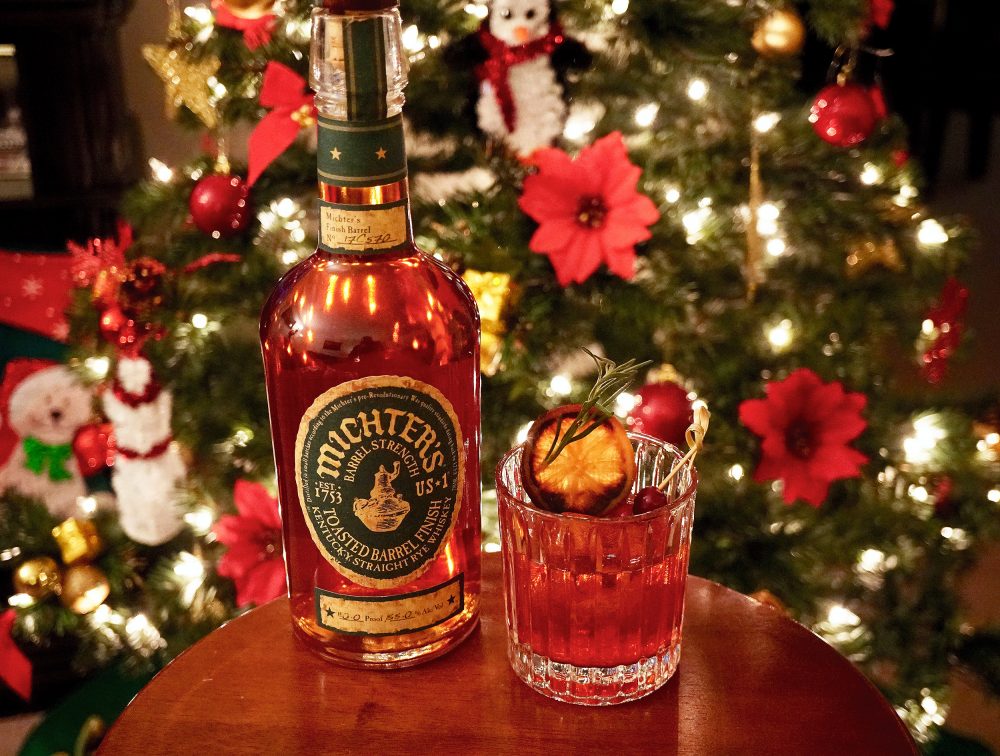 Christmas Old Fashioned
.5 Ounce (15ml) Maple Syrup or Cinnamon Syrup (recipe below)
2 Ounces Michter's Toasted Barrel Bourbon or Rye
2 Dashes Angostura Bitters
2 Dashes Orange Bitters
3 Drops Pimento Dram (optional)
Serve in a Rocks glass with rosemary sprig and/or whole fresh cranberry garnish
Stir all ingredients together vigorously with ice. Strain into a rocks glass with one large ice cube. Garnish with maraschino cherry or orange rind.
Cinnamon Syrup
Boil 4 ounces of spring water and add 4 ounces of sugar. Break up 2 cinnamon sticks and add to the simple syrup mixture and allow to steep. 2 Cinnamon sticks is about 10grams, the amount of time you steep it for has more of an impact than the actual quantity of the cinnamon. Strain into a small bottle. If you plan on keeping this in the fridge for more than a week or two, add a teaspoon (about 5ml) of gold rum or vodka and store in refrigerator for up to a month. The alcohol will extend the amount of time you can keep it in the fridge and still have for safe use and consumption.
If you like the Christmas illustration above, it's available to buy as a Christmas card courtesy of Diane Dempsey of the Retro Christmas Company.
Written by Justin R. Cristaldi
@AcanJournal