The Drive-In Theater – An Icon of American Culture
The idea of an open air movie theater first phased Richard Hollingshead of Camden, New Jersey in the early 1930s. Hollingshead, who worked as a sales manager at his father's company, Whiz Auto Parts, had extensive knowledge in automobiles. A motion picture buff, he combined these interests and envisioned a concept where people could watch a movie from the comfort of their own cars under the stars.
With the start of the Great Depression, it goes without saying that the 1930s was a difficult period for most Americans. Motion pictures seemed a natural escape from the hardships that plagued people of all social class and stature during this time. Movies of the time tended to give audiences a sense of hope for a future that seemed realistically attainable to them – A future much more positive than the harsh reality that awaited them beyond the theater walls.
Hollingshead, intent on making his vision a reality, conducted hours of experimentation in his own driveway. He used white sheets as screening, pinning them up between trees and put significant effort into arranging cars, adjusting heights and spacing, testing angles to ultimately ensure maximized capacity and optimal viewing ability. Speakers were placed in various areas in an effort to ensure sufficient sound ability. Hollingshead even went as far as using his own sprinkler system to recreate nature's elements to devise ways to protect against inclement weather. Perhaps his most significant challenges during this experimental phase however, were with the sound and projection capabilities, a problem that would continue to plague drive-in theaters for decades to come.
It wasn't until he mounted a 1928 Kodak projector to the hood of his car that he realized he had a concept worthy of a US Patent. On May 16th, 1933, less than one year after applying for one, Hollingshead was issued US Patent #1909537. Under patent law at the time, Hollingshead would now be allowed to collect royalties from licensed drive-in theater operators for the next 17 years.
First Drive-In
With an investment of $30,000 (equivalent to nearly $500,000 US today), Hollingshead opened the world's very first drive-in theater on June 6th, 1933 in nearby Pennausken Township under Park-In Theaters Inc. The new Automobile Movie Theater, which could accommodate up to 400 cars, had a screen 30 ft. high by 40 ft. wide with "directional sound" amplified through three six-foot square RCA speakers situated next to the screen (this proved problematic to those situated in the back row). Hollingshead advertised the drive-in by focusing on the advantages it offered patrons, including the fact that it was affordable entertainment for the whole family. Admission was 25 cents per car, 25 cents per person with no more than a $1 maximum. The movie was the 1932 British comedy, "Wives Beware" starring Adolphe Menjou and Margaret Bannerman. Hollingshead operated the theatre until he sold it in 1936, though he retained a 30% interest in Park-In Inc. for the next several years.
The years that followed
Years of legal complications regarding patent infringement ensued as a result of those who wanted to capitalize on the success recently experienced by Hollingshead. Though numerous drive-in theaters began to spring up all over the country, many of them were not licensed. Others that were licensed stopped paying royalty fees altogether. With these challenges and after reconsideration about whether Hollingshead's original concept was really actually a novel idea, the State of Delaware overturned his patent in 1949, much to his dismay.
As time went on, both projection and sound quality began to improve most notably thanks to the advent of in-car speakers produced by RCA in the early 1940s. Now sound came directly from the car's FM radio. These advances enabled the drive-in theaters to see some further growth, though it remained relatively slow at first. It would not be until the American car culture reached its peak in the late 1940s and early 1950s that the drive-in theater would reach its own height in popularity. Subsequently, further growth would be in the Baby Boom years immediately following WW2 and continue through to the late 1950s and early 1960s. New families were now afforded the opportunity to partake in a wholesome form of family entertainment while staying true to the household budget. According to statistics, a total of 4,063 drive-in theaters existed across the United States and Canada in 1958 alone, a significant increase from only a decade earlier.
As a result of this popularity, competition grew and as such, many drive-in theaters introduced gimmicks to draw patrons and ultimately, increase sales. One theater in Greensboro, North Carolina offered bell hop service and another in Chicago offered automobile maintenance while the movie played. The Circle Autoscope Drive-In, located in Albuquerque, New Mexico featured "autoscopes", which were individualized screens for each parking space. Perhaps the most novel of all drive-in theater concepts however, was the brainchild of owner, Ed Brown, airplane enthusiast and former Navy pilot. He opened Ed Brown's Drive-In and Fly-In Theater, in 1948. Located in Asbury Park, New Jersey, this theater had room for 500 cars and 50 airplanes. An airstrip was built adjacent to the lot where airplanes could taxi in and park at the back behind the cars. Once it closed, this novel concept for a drive- in theater was never duplicated.
For the most part however, the drive-ins continued to cater to the family unit. Many opened their gates hours before twilight to accommodate children and allow them time at the playground before the movie began.
Perhaps the largest drive-in theater ever built was the All Weather Drive-In in Copiague, New York. Also known as Johnny's All Weather Drive In, this theatre could accommodate 2,500 cars on its 28-acre site, as well as 1,200 seated patrons in its air-conditioned indoor viewing area. In addition to a full service restaurant, it also boasted a shuttle train, an extensive children's playground and an animal farm.
The decline begins
As the 1960s gradually came to a close, popularity subsequently began to dwindle. More and more families owned television sets and as such, attendance began to decrease steadily. In the eyes of the media, drive-ins were merely referred to as "passion pits" because of the amount of privacy they afforded patrons – Particularly teenagers who now seemed to be represent the majority of the patrons. This teenage culture has been immortalized in movies such as American Graffiti and Grease.
In the 1970s and 1980s, as more and more theaters closed down, many resorted to running b-rated and x-rated movies to draw patrons. To no surprise, the reputation of this once wholesome means of entertainment suffered severely. In the years that followed, real estate costs began to skyrocket due to suburban expansion causing even more theaters to go under. With so much suburban development, the number of indoor theaters and multiplex theaters began to increase affording patrons more quality movies for less money in modern, air-conditioned settings.
Another major factor contributing to the demise of the drive-in was the 1966, official adoption of Daylight Savings Time. As a result, a full hour of outdoor viewing was subsequently lost, especially posing challenges to families with younger children. Even though many owners worked to devise ways to accommodate daylight viewing, attempts proved unsuccessful and as such, no viable solution ever materialized.
What's old is new again!
It wasn't until the early 1990s that the drive-in theater began to experience a small resurgence in popularity to such extent that many drive-ins that had been closed only decades before were reopening their doors. Many brand new drive-in theaters were also opened – each one now adapting to the changes in technology that had taken place in recent years. In the years that followed, new digital cinema, though expensive would now allow drive in theaters to compete with indoor multiplexes and for the first time, they now had the ability to acquire first run movies, something almost unheard of in the early days of the drive-in.
The drive-in theater was a unique cultural institution and a piece of the past that perhaps many of us long for -a convenient, cheap and a wholesome retreat for the entire family. Today, perhaps due to the nostalgia associated with them, people continue to flock to drive-in theaters as a way to escape the stresses of today and in essence, revert back to a seemingly more simpler time.
Though today, less than 400 drive-in theaters remain in operation worldwide, there continues to be a steady interest in countries such as Spain and China where new drive-in theaters have been opened in recent years. In addition, much has been written about the drive-in theater culture – both past and present. Several sites on the world wide web are dedicated to nostalgic pastime and to the "ozoners" who specialize in all things "drive-in".
So with all that being said, I am excited to be taking in a drive-in movie tonight at the Starlite Drive-In, one of Canada's oldest drive-in theaters still in operation and situated only 5 miles away from me in Stoney Creek, Ontario.Tonight, I go back in time… even if only for a few hours.
June 6th 2013, marks the 80th birthday for the drive-in theater!
Written by: Karen DeBreau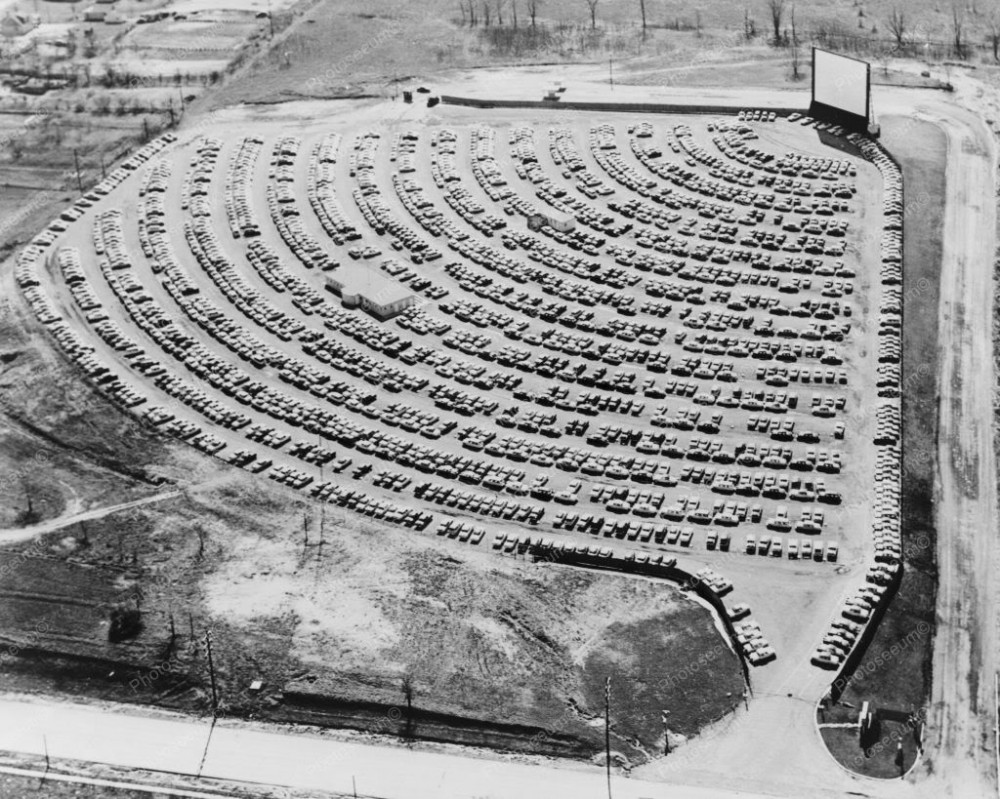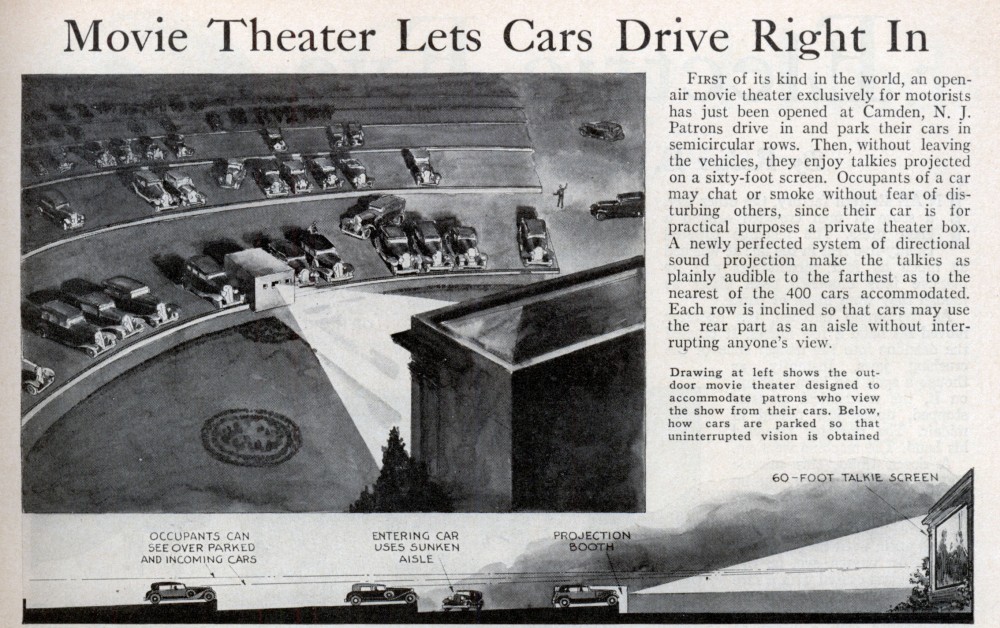 Above: Automobile Movie Theater — You can drive your car right in!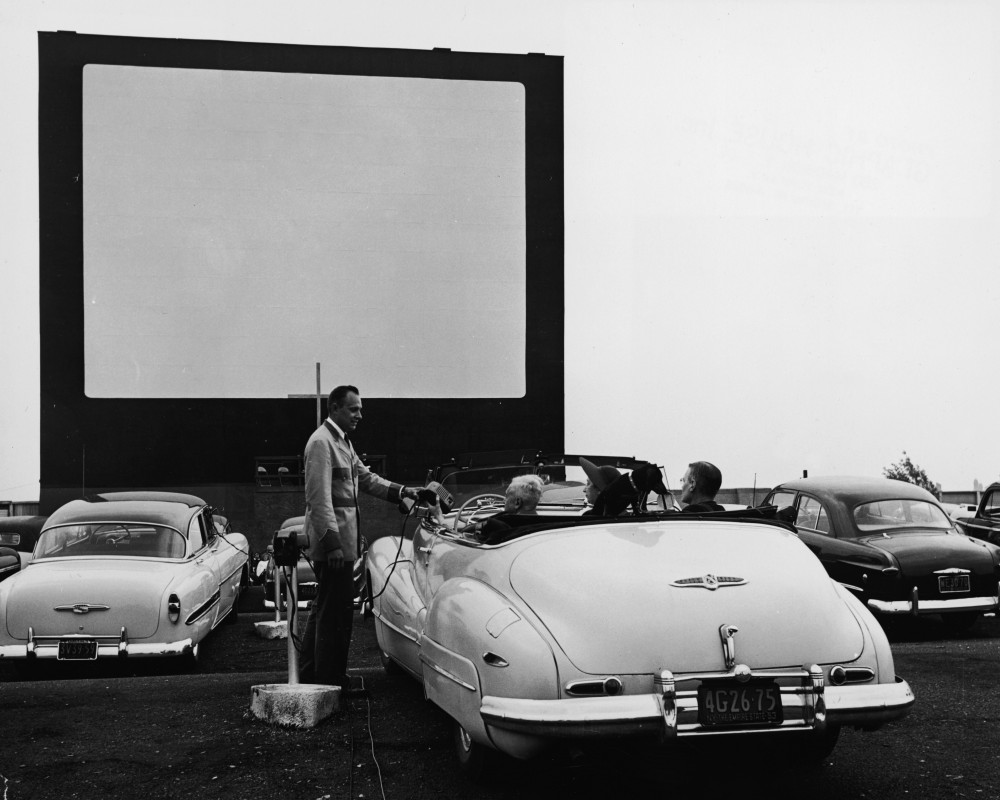 Above: At A Drive-In Theater — A uniformed drive-in theater attendant hands a clip-on speaker to the driver of convertible while the car's other passengers watch, New York, early 1950s. (Photo by Hulton Archive/Getty Images)