What We Have Learned From James Bond
Without a doubt the one film character to define the term "cool" is James Bond. With the twenty-fourth installment of the series, SPECTRE, due out later this year, it's time to look at the biggest lifestyle contributions made by the greatest secret agent of all time as taught by, still the best Bond, Sean Connery.
What to Drink
Despite his Scottish heritage, Bond is never seen drinking Scotch in the early films. He did however teach us a great deal about the correct and best ways to enjoy other alcoholic beverages.
For those special moments with members of the opposite sex, the only drink that is permissible is champagne, preferably Bollinger or Dom Perignon. In From Russia With Love we learned that drinking red wine with fish is a dead giveaway that you are uncultured and probably a communist, or at least an enemy of freedom. In You Only Live Twice, we learned not only that "Siamese" vodka is undrinkable, but that sake should always be served at 98.4 degrees Fahrenheit.
However the most important lesson is drinking is how to properly prepare a vodka martini. Bond's iconic "shaken not stirred" instructions influenced generations of future martini devotees. Bond ignored the fact that vodka can actually be "bruised" when shaken which makes the drink cloudy but prevents the diluting the taste of the vodka.
What to Drive
Luxury cars were for the pretenders. Flashy sports cars were for those without the knowledge of how to select a true performance automobile. Bond did more to establish Aston Martin as the ultimate performance sports car than any amount of advertising could ever accomplish. It was obvious that Bond would drive his Aston Martin even without the rocket launchers, machine guns, and ejector seat.
What to Shoot
The only acceptable hand-gun for the well-dressed and well equipped spy was the Walther PPK which was issued by Q. Bond's first weapon of choice was accurately a Berretta, which M called a "lady's gun" that had limited stopping power. The Berretta was actually Bond's first choice but after it nearly caused his early demise he was forced to turn it over to M.
Bond's choice of a side arm actually was the result of a letter that Ian Fleming received from Geoffrey Boothroyd. Boothroyd continued to provide weapons advice to Fleming, which lead to Fleming creating a "Major Boothroyd" who appeared in both the books and the movies.
How to Gamble
A man of the world such as Bond is equally at home at the gaming tables as he is at saving the free world. While the modern Bond prefers to play no-limit Texas Hold'em, classic Bond's game of choice was baccarat, where the aim is to predict the representing hand of banker/player. To many Americans at the time, baccarat was a fairly unknown game. The fact that the game was played in a special area with a great deal of pomp and circumstance (and always when wearing a tuxedo) and that the cards were dealt with a paddle gave the game a very sophisticated feel.
Baccarat also had the image of being a very high-stakes game. While the game is now played in far less formal surroundings and even online for modest stakes, it is still a favorite pastime for high-rollers in casinos around the world.
The choice of the game for someone with Bond's attention to detail and wide knowledge is somewhat surprising as it is one of the more simplistic and rigid in terms of play.
What to Eat
In the Casino Royale novel, Bond says, "I take a ridiculous pleasure in what I eat and drink." In the film, Bond actually had a relatively healthy diet that was fairly rich in seafood, as well as red meats like lamb. Breakfast usually featured scrambled eggs and bacon. Of course Beluga caviar was a staple.
However the main thing we learned from Bond was to eat what the locals ate. Bond represented the well-traveled and highly cultured. Therefore the choice of local cuisine was used as a way to show that side of the character. Many of the dishes served in the early movies and particularly in the books were chosen because they were exotic for the time, but have become commonplace.
Bond's eating habits were once the subject of a BBC analysis. Their conclusion was that his diet was too high in cholesterol and was lacking in carbs, fruits, and vegetables. They also came to the conclusion that in order to maintain the energy needed for his high performance lifestyle that he would need to consume approximately 6,000 calories per day.
How to Smoke
The later Bond movies included disclaimers about the obvious dangers of smoking. Even some of the early films, like the above mentioned You Only Live Twice, contained several warnings from friend and foe alike to Bond about his nicotine habit. By any standards Bond was a heavy smoker; in the books he would average seventy per day. He also had his cigarettes custom made for a higher nicotine content. However, his smoking often provided Bond with the perfect hiding place for weapons such as darts and exploding projectiles. Cigarettes must always be carried in a metal case and using matches as opposed to a lighter was not only tacky, but a sign that you were an enemy attempting to pass as a good guy.
What to Wear
The well-dressed man always goes for quality and sticks with the classic cuts. Suits should be custom tailored when possible and never trendy. (Although Roger Moore's Bond would pay heed to fashion trends like double breasted blazers.) Leisure wear had the same classics looks.
Additionally owning a tuxedo was mandatory and one never, ever wore a pre-tied bowtie. The early Bond was not above using his adversary's choice in clothing as a sign that they were a threat to the free world.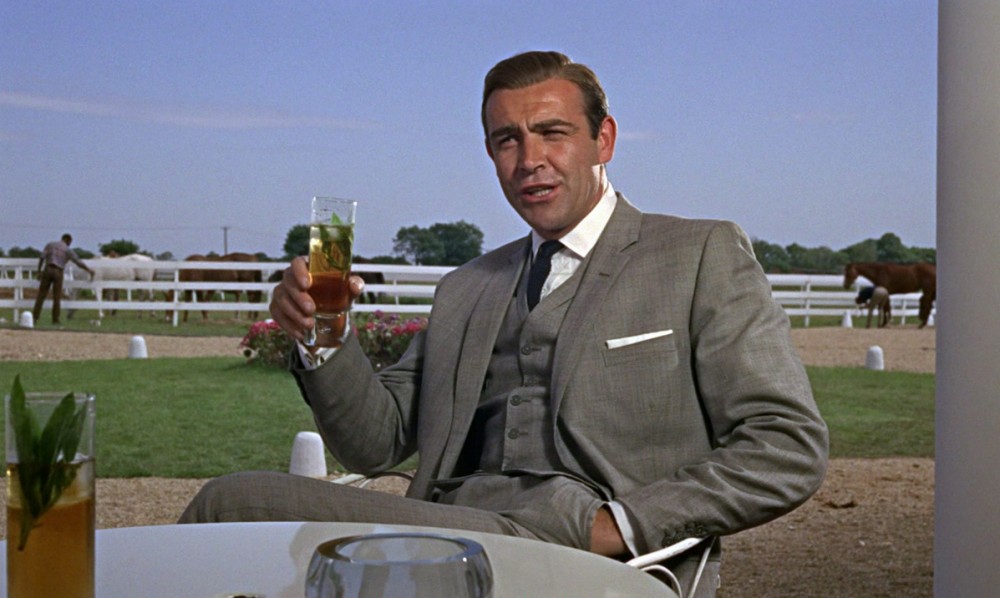 Above: James Bond knows what to wear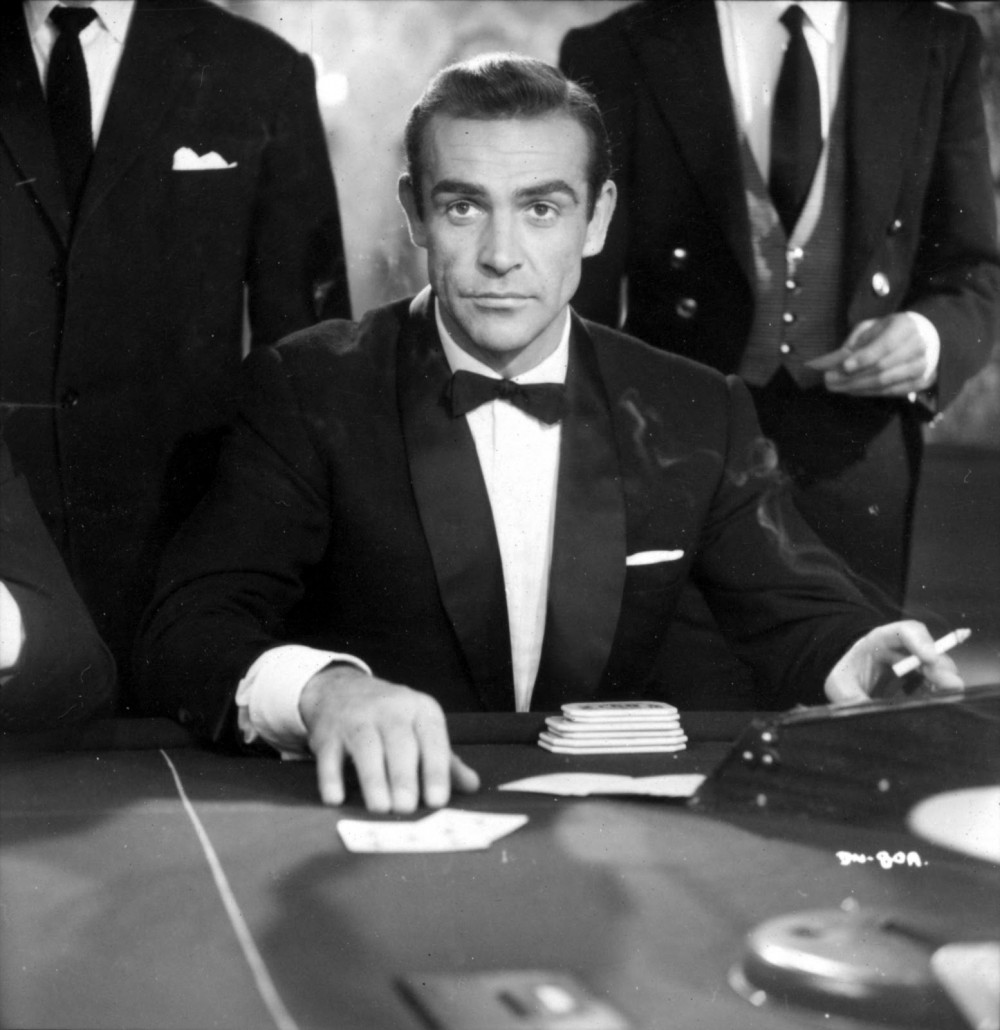 Above: James Bond knows how to gamble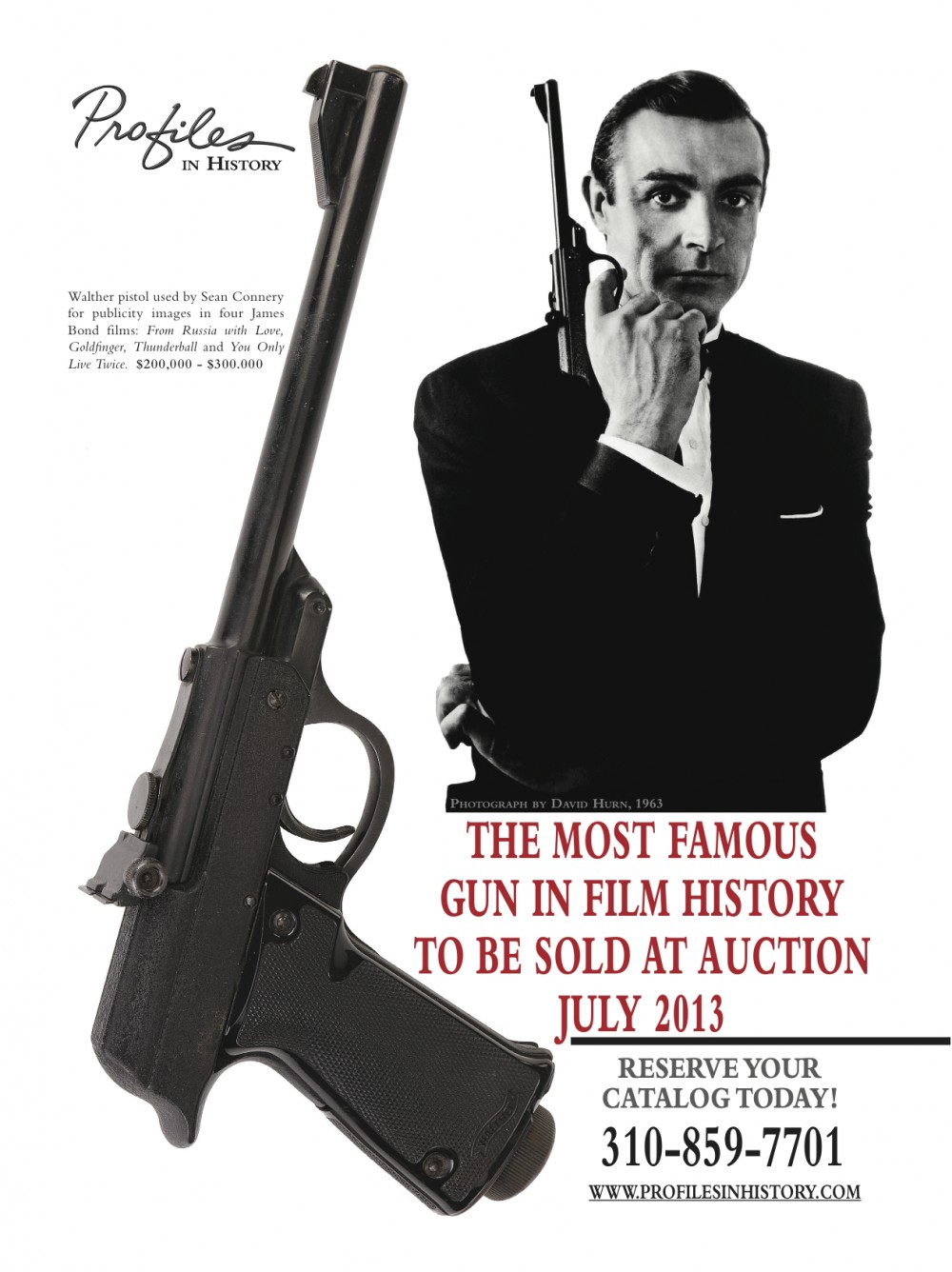 Above: James Bond knows what to shoot with